cultivating

relationships


designing inspiring

places


enriching

communities

Campus Village Christ the King High School Communities community Conference Conference Presentation Cultivating Relationships Faith-Based Girl Scout Groundbreaking headquarters Hilton Head Historic Columbia Foundation Inspired Design Interiors landmark MACK McCormick Midlands Technical College NAWIC New Construction North Carolina Power 30 public engagement rutledge SCCCMA SHPO state credit union studenthousing uofsccampusvillage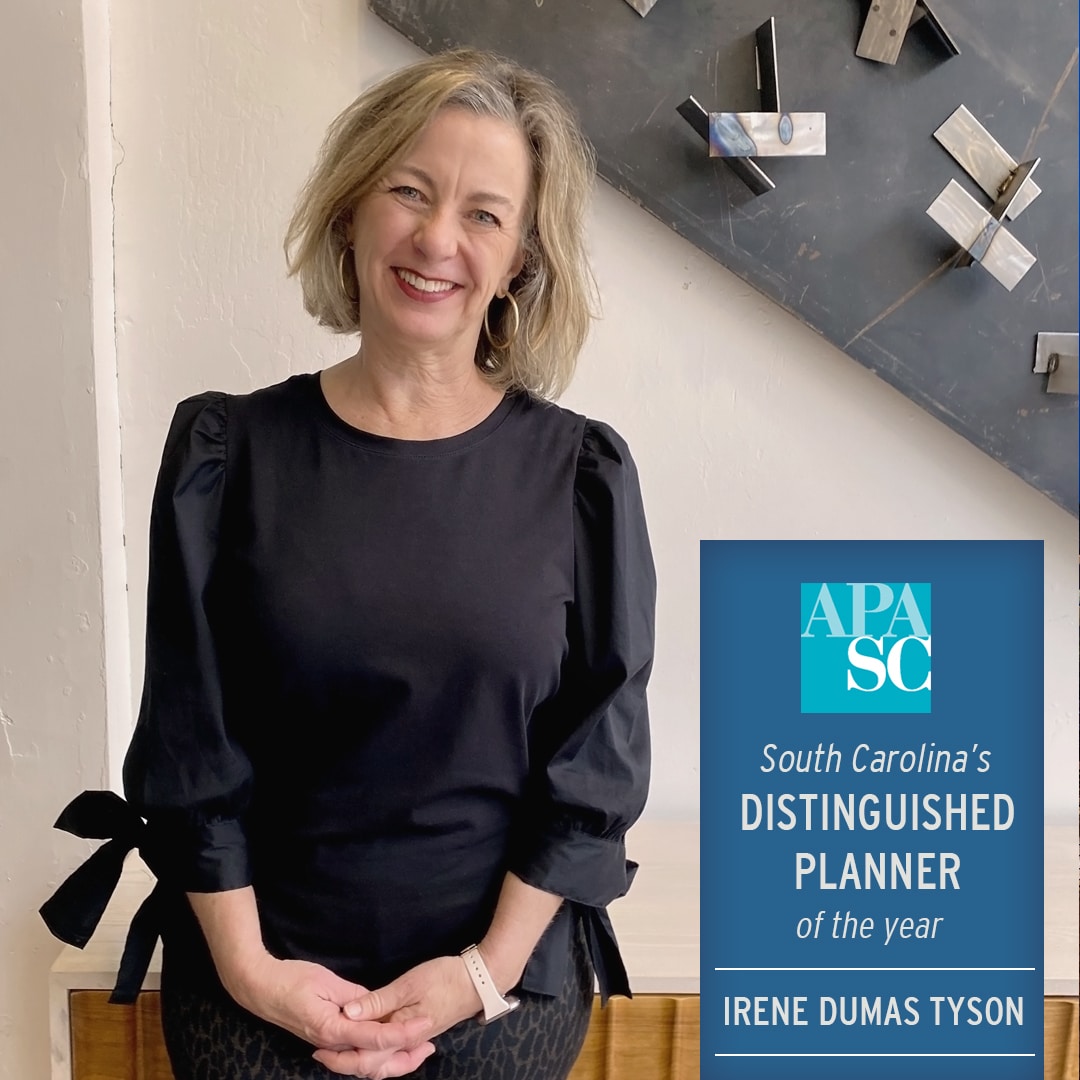 Thursday December 1, 2022
BOUDREAUX Director of Planning, Irene Dumas Tyson, Wins Distinguished Planner of the Year Award
Irene Dumas Tyson, AICP, Associate AIA was recognized by the South Carolina Chapter of the American Planning Association (SCAPA) as the 2022 Distinguished Planner of the Year. The award was bestowed at their annual conference in Hilton Head in November.
This award recognizes a planning professional who has demonstrated outstanding contributions to the planning field in South Carolina and exhibits qualities which have led to successful accomplishment of planning goals, programs, or projects. Given her planning leadership, creativity, professional commitment, community service, demonstrated expertise, and ethical conduct, SCAPA awarded Irene Dumas Tyson this honor.
As a certified planner with a Bachelor of Architecture from Mississippi State University, Irene's 28 years of experience fuel the visionary master plans she leads as Director of Planning at BOUDREAUX. Her experience identifying areas of opportunity, crafting guiding principles, and creating frameworks for implementation inspires transformation for towns and campuses throughout the southeast. Her project experience includes authoring master plans, strategic plans, vision plans, and facilitation of public meetings and stakeholder groups for a variety of client types, including local municipalities, higher education institutions, churches, and community organizations.
When speaking of her longtime co-worker and collaborator, Heather Mitchell, President of BOUDREAUX, reflects, "Irene is a true inspiration. Her leadership fuels the creative soul of our office. She is ever a source of new ideas, a challenge to conventional thinking, and a volunteer to tackle the next endeavor. She plans and leads our annual design retreats. She is always bringing a student to tour our office and to share her enthusiasm for design and planning. I will always be thankful for her influence on me personally and for the gifts she shares daily with our team and with our clients."
Current and recent projects include the Master Plan for Downtown River District for the City of Conway, master plans for the cities of Inman and Hanahan, USC Sumter and Lancaster, St. Mary Magdalene Catholic Church, and Catholic Community at Carolina Forest.