cultivating

relationships


designing inspiring

places


enriching

communities

Campus Village Christ the King High School Communities community Conference Conference Presentation Cultivating Relationships Faith-Based Girl Scout headquarters Hilton Head Historic Columbia Foundation Inspired Design Interiors landmark MACK McCormick Midlands Technical College MTC NAWIC New Construction North Carolina Power 30 Professional public engagement Samuel J Cadden Chapel SCCCMA SHPO studenthousing uofsccampusvillage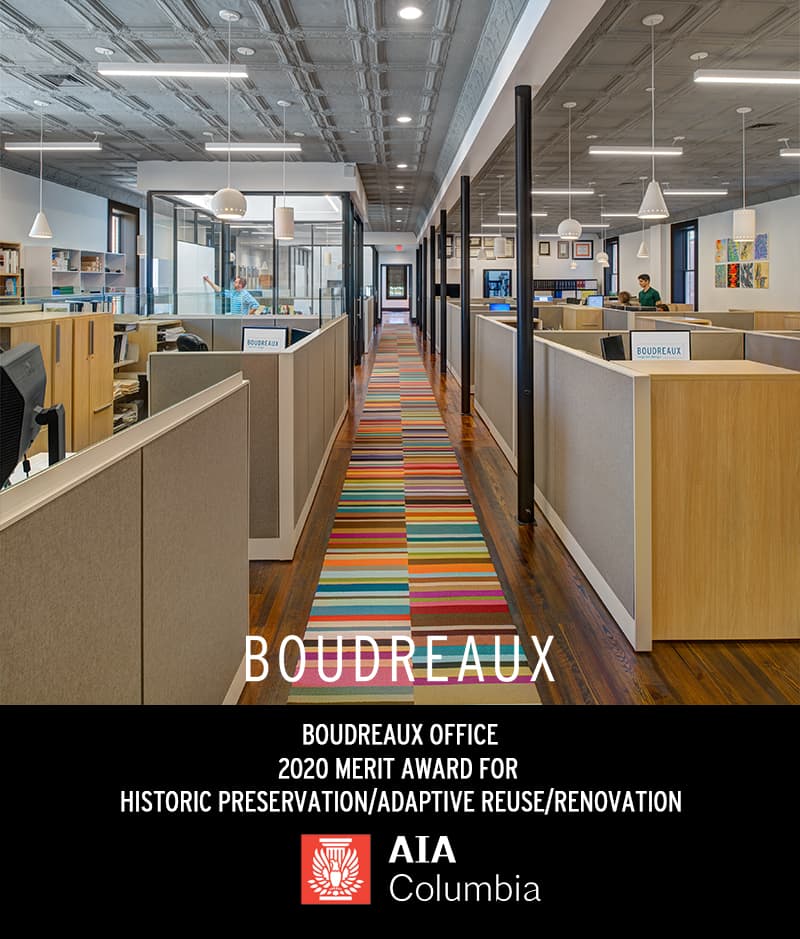 Friday November 13, 2020
BOUDREAUX Office Wins AIA Columbia Design Award
BOUDREAUX was recognized at this year's virtual American Institute of Architects Columbia award ceremony for the design of its own office. They accepted the 2020 Merit Award for Historic Preservation/Adaptive Reuse/Renovation for the design and rehabilitation of the former Powell Furniture store on Sumter Street.
One block from Main Street, the second floor of a vacant furniture store became home to one of Columbia's most established architecture firms. The challenge was to adapt the space for new uses while preserving the historic retail character, interior and exterior, required for the state and federal historic tax credits. They worked to create an environment reflective of the collaborative and social culture of the tenant. Despite the building's disrepair and neglect, they immediately saw the space's potential to become a vibrant place to work. In addition to the historic structure, there was a non-historic addition at the rear which offered its own unique opportunities. Using photos from the past and their own on-site investigation, they were able to piece together the building's historic elements and create a vision for how it would be restored to its period of significance and serve its new purpose as a dynamic studio.
"There was a thoughtful differentiation of experiences that activate the space and provide variety and suitability from the front to the back. The interiors showed restraint and respected the history of the building," said Head Juror Joel Blackstock, Principal at Williams Blackstock Architects located in Birmingham, Alabama.
Decades of paint layers were stripped from the brick façade, terracotta accents and wood storefronts were restored, and prism glass at the front entry was reinstalled. A new stair was added in the lobby as a modern interjection within the historic context. The street level entrance takes advantage of its proximity to the city sidewalk and connects users to the city.
"Developing this office gave us an opportunity to practice what we preach and do for ourselves what we would recommend for our clients. We revitalized an abandoned historic building in the heart of downtown into a vibrant workplace reflecting the culture and workstyle of our company. The project engages the public through our lower lobby and is an important part of the expansion of downtown Columbia radiating from Main Street's success. We partnered with a boutique hotel to make this project a reality, and reinvigorated this corner of downtown. Most importantly, we created a space we're proud to call home," said Vice President David Wiesendanger, AIA.
.