cultivating

relationships


designing inspiring

places


enriching

communities

Campus Village Christ the King High School Communities community Conference Conference Presentation Cultivating Relationships Faith-Based Girl Scout headquarters Hilton Head Historic Columbia Foundation Inspired Design Interiors landmark MACK McCormick Midlands Technical College MTC NAWIC New Construction North Carolina Power 30 Professional public engagement Samuel J Cadden Chapel SCCCMA SHPO studenthousing uofsccampusvillage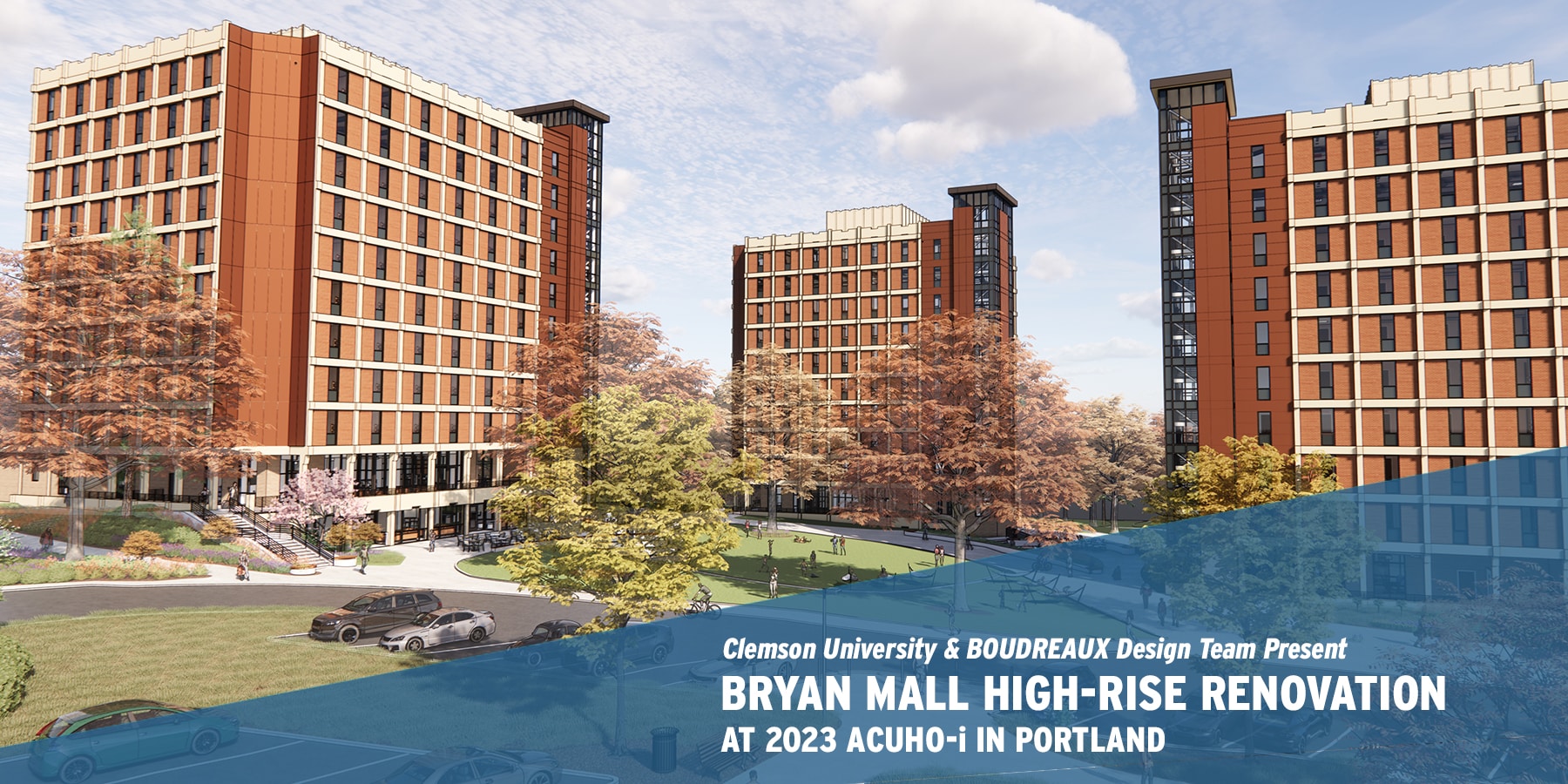 Wednesday June 28, 2023
Clemson University & BOUDREAUX Design Team Present at ACUHO-I
The Association of College and University Housing Officers – International (ACUHO-I) empowers campus housing and residence life professionals. The BOUDREAUX Design Team has partnered with Clemson University Home to present the Bryan Mall High-Rise Renovation.
This project was recently approved for Phase I funding by the State Fiscal Accountability Authority and officially broke ground in June 2023.
Over the next few years students can expect to witness significant changes to each of the three high rises. Manning Hall, Lever Hall, and Byrnes Hall lodge about 1,400 students each year. Built in 1967, 1968 and 1970, respectively, the three 11-story buildings have provided a temporary home to more than 75,000 Clemson students in the last five decade
A majority of the project budget will be used to upgrade the mechanical, electrical and plumbing systems as well as address building envelope and structural issues. There will be significant improvement on each floor to increase and improve amenity spaces including study rooms, lounges and other social spaces. There has also been a recommendation made to redesign the main entry and exit points of the high rises so that they all face one another, allowing for a courtyard concept to exist between the three buildings.
The building overhauls will make the complex fully accessible to individuals with mobility disabilities and include reroofing and other improvements to the exteriors.
Heather Mitchell, AIA, LEED AP and Justin Abrams, AIA from BOUDREAUX presented Bryan Mall High-Rise Renovations alongside Kathy Hobgood the Associate VP of Auxiliary Enterprises and Donnie Lloyd the Director of Operations and Planning for Clemson Home, and TCR with Little Diversified Architects.
Conference Attendees can download the presentation here for CE credits: