cultivating

relationships


designing inspiring

places


enriching

communities

Campus Village Christ the King High School Communities community Conference Conference Presentation Cultivating Relationships Faith-Based Girl Scout headquarters Hilton Head Historic Columbia Foundation Inspired Design Interiors landmark MACK McCormick Midlands Technical College MTC NAWIC New Construction North Carolina Power 30 Professional public engagement Samuel J Cadden Chapel SCCCMA SHPO studenthousing uofsccampusvillage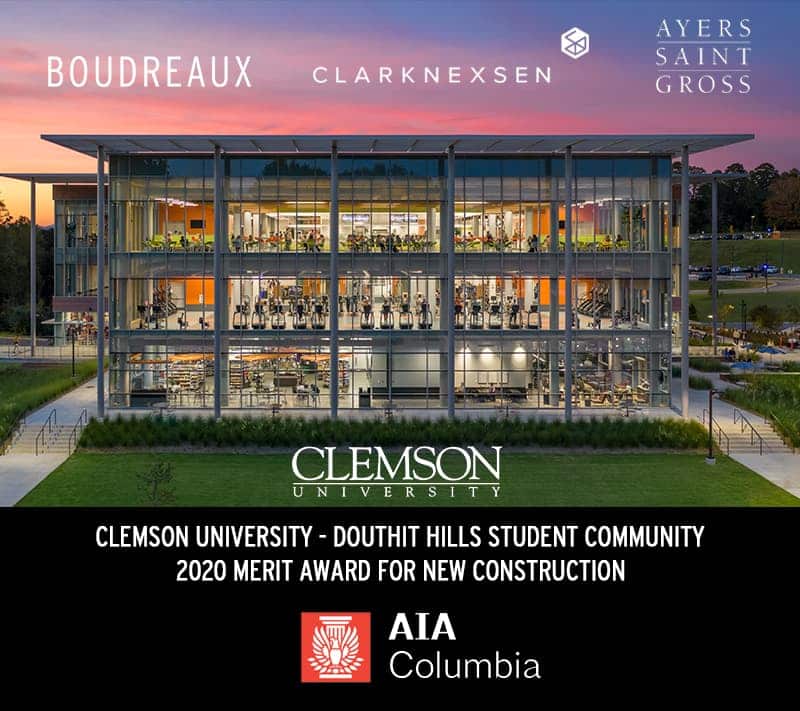 Tuesday November 10, 2020
Clemson University's Douthit Hills Student Community Wins AIA Columbia Design Award
Douthit Hills Student Community was recognized at this year's American Institute of Architects Columbia award ceremony. Architecture firms BOUDREAUX (Columbia, SC) Ayers Saint Gross (Baltimore, MD), and Clark Nexsen (Charlotte, NC) accepted the 2020 Merit Award for New Construction for their collaborative design effort on this project.
Head Juror Joel Blackstock, Principal at Williams Blackstock Architects in Birmingham, Alabama made a special point to mention, "The siting of the building straddles the pedestrian spine on campus of the residential community, and it's well integrated with campus master plan. This building creates a real sense of community."
The Douthit Hills Student Community development has transformed close to 80 acres at the gateway to Clemson's campus into a vibrant, mixed use, pedestrian-oriented environment. Seven housing buildings containing over 1650 beds anchored by a central Hub are situated along a series of interconnected outdoor spaces with views toward Clemson's landmark, Tillman Hall. The Central Hub, striking and transparent, showcases the activity of a student recreation center, a 450 seat dining hall, a Barnes and Noble Bookstore, Starbucks Coffee, convenience store, and a Freshens.
The design fosters a sense of community, connectivity, and casual encounters for students and visitors to the campus. The project achieved LEED Silver certification by following a holistic approach to incorporate a range of sustainability and energy efficiency strategies.
"Douthit Hills has been an amazing addition to the campus community! The Dining, Campus Rec and Bookstore spaces bring thousands of students through the building every day. Whether a student is choosing to live in the Douthit neighborhoods, or makes spending time in the building a fun destination with friends – this project has brought additional vibrancy to campus life. We are so proud of the partnerships that brought it all to fruition!" says Kathy Hobgood Clemson University's Assistant Vice President and Executive Director for University Housing and Dining.
Architecture & Interior Design: BOUDREAUX, Ayers Saint Gross, Clark Nexsen
Civil Engineering: Dutton Engineering

(Structural / Mechanical / Electrical Engineering) Clark Nexsen, (Food Service) Porter Khouw Consulting, (General Contractor) Holder Construction, (Commissioning) SystemWorCx, and (Landscape Architecture) Ayers Saint Gross.
BOUDREAUX For more information, please visit BOUDREAUX at BoudreauxGroup.com or call us at 803-799-0247. BOUDREAUX is located at 1519 Sumter Street, Columbia, SC. 29201.