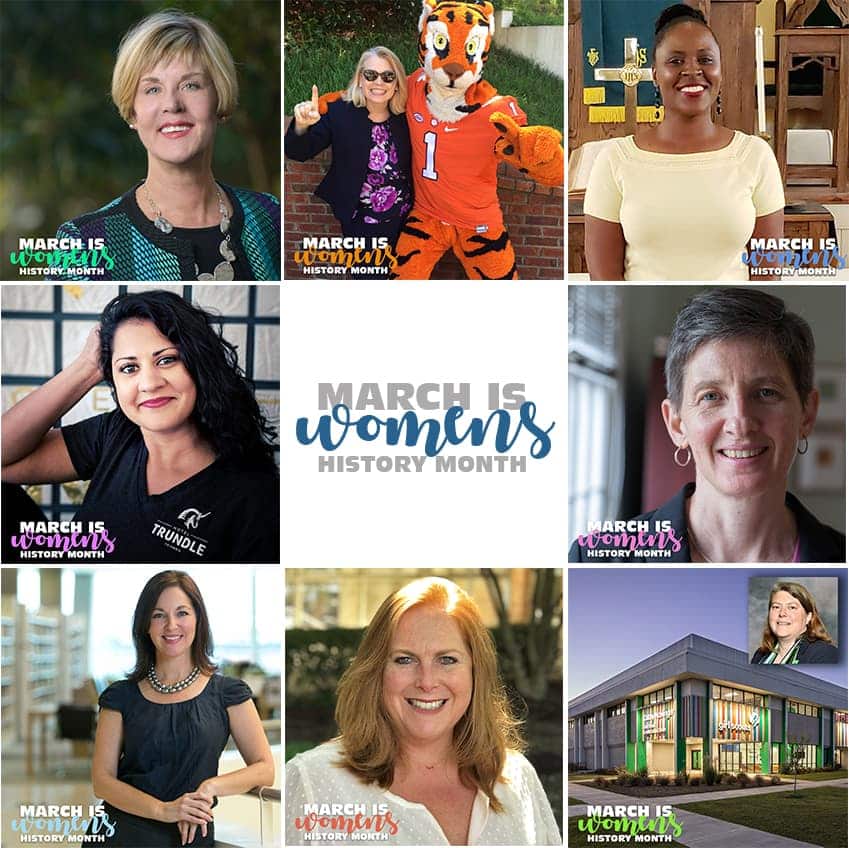 Wednesday March 31, 2021
March is National Women's Month
March is National Women's History Month, and this year we're celebrating our women clients making history right now in South Carolina!
Lynn Arve played a key leadership role as we designed the Cathy Novinger Girl Scout Leadership Center. She serves as the Chief Business Officer for Girl Scouts of South Carolina – Mountains to Midlands and was a steady voice from beginning to end. Lynn truly believed in the impact experiencing this building would have on girls' lives. Her dedication is one of the reasons this project was so successful, through her leadership and creativity the building is now a Columbia destination. Thank you Lynn for making a difference!
We were inspired by the vision Melanie Huggins of Richland Library on multiple bond referendum projects. She serves as the Executive Director and under her leadership the libraries have been reimagined. Melanie championed the creative process and demanded design excellence, all to the benefit of the community. Thank you Melanie for envisioning spaces in which all are welcome to learn, create, and share!
We have been honored to work with Robin Waites at Historic Columbia on a number of projects through the years. The most recent being the Mojeska Simkins House and Dependency. As the executive director, Robin leads a passionate and dedicated team focused on preservation, discovery, and education. We enjoy working with Robin because of her commitment to advocacy. Thank you Robin for helping us appreciate our roots and learn from the past!
We are honored to be serving Lila Anna Sauls with Homeless No More to design the renovations and connection of the residential dormitories at the Family Shelter. She leads an incredible team that is focused on providing for homeless families. We enjoy working with Lila Anna because of her passion for service, education, and justice. Thank you Lila Anna for making a difference in the Midlands!
Rita Patel is an accomplished entrepreneur, hotelier, and marketing guru – and she has degrees in architecture and interior design. The unique setting of the historic building has been amplified by Rita's partnerships with local artists, furniture fabricators and food and beverage artisans. We enjoyed working with Rita because she was focused on creating a one-of-a-kind place in the heart of downtown Columbia. Thank you Rita and Hotel Trundle for being a great partner and for loving Columbia as much as we do!
We have been blessed to work with Rev. Tiffany Knowlin Boykin at the historic Wesley United Methodist Church – Columbia, SC on the corner of Gervais and Barnwell. The first African-American Methodist congregation in Columbia, dating back 150 years – Tiffany embraces diversity and preserving the church's historic character. A powerful speaker and inspired leader, Tiffany is guided by her faith. We appreciated Tiffany's determination to restore this iconic building. Thank you Tiffany for keeping history alive while embracing the future!
We were privileged to work with Kathy Hobgood at Clemson University to transform a gateway to Clemson's campus. The Douthit Hills Student Community included seven housing building anchored by a central Student Life Hub. For almost 15 years, Kathy has bled orange and purple – she was a powerhouse behind the success of this project. We enjoyed working with Kathy because she was always an advocate for the students and had a keen design eye. Thank you Kathy for making Clemson University a great client!
We were honored to work with JoAnn Turnquist at Central Carolina Community Foundation to design and furnish their office space in the Bull Street District First Base Building. Along with developing and implementing the vision and strategic direction of the Foundation, JoAnn leads a team helping non-profits, families, businesses, and organizations establish charitable funds to support causes the Midlands cares about. We enjoyed working with Joann because throughout the design process, she was focused on collaborative spaces and bringing her work team together. Thank you JoAnn for making Columbia awesome!