cultivating

relationships


designing inspiring

places


enriching

communities

Campus Village Christ the King High School Communities community Conference Conference Presentation Cultivating Relationships Faith-Based Girl Scout Groundbreaking headquarters Hilton Head Historic Columbia Foundation Inspired Design Interiors landmark MACK McCormick Midlands Technical College NAWIC New Construction North Carolina Power 30 public engagement rutledge SCCCMA SHPO state credit union studenthousing uofsccampusvillage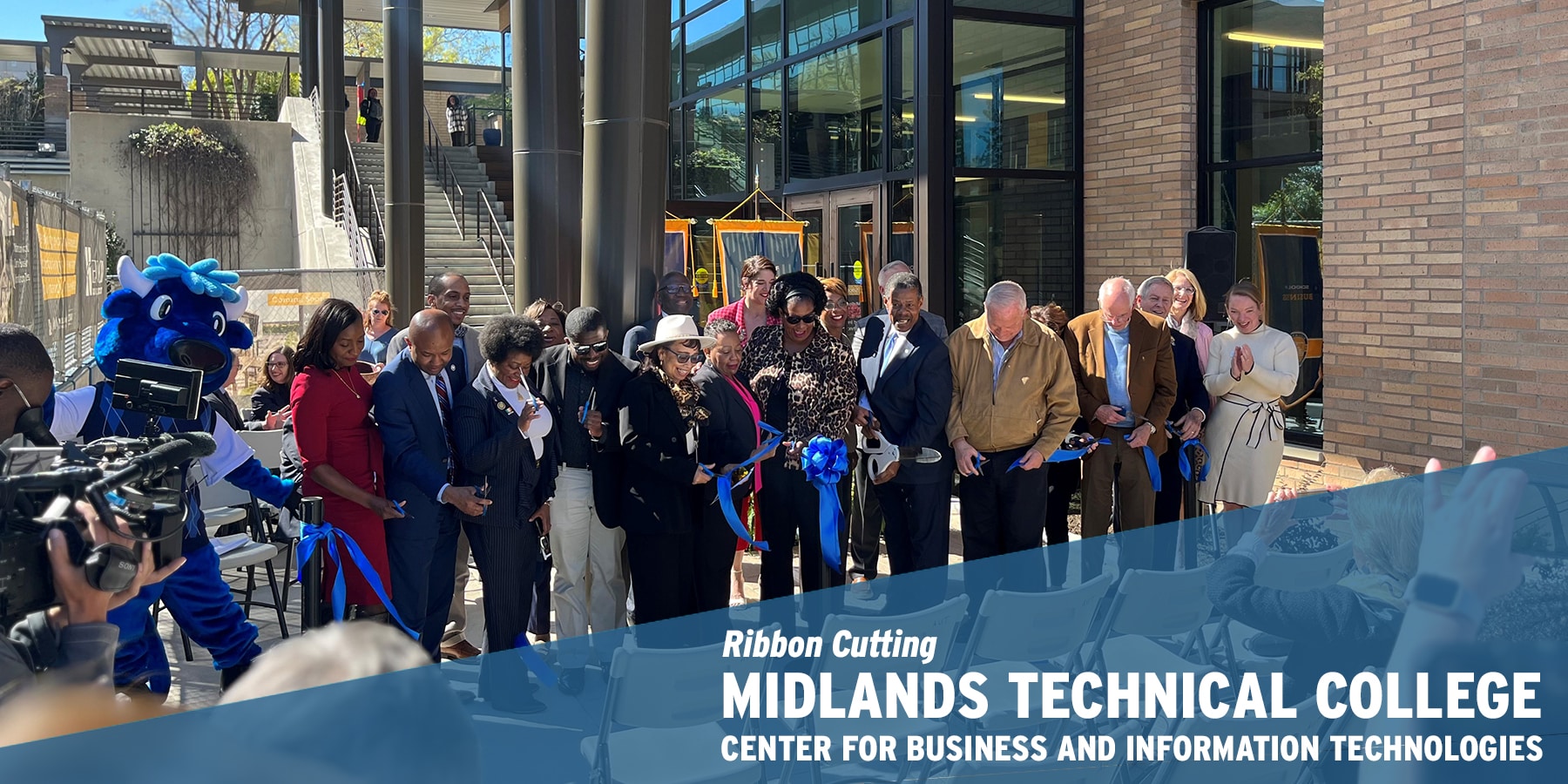 Thursday March 16, 2023
Midlands Technical College Opens the New Center for Business and Information Technologies
We are thrilled to announce the official opening of Midlands Technical College's new academic building the Center for Business & Information Technologies (CBIT). Focused on Business, Information Technology, Science, and Mathematics, the building is designed to serve as a front door to the Beltline Campus. It houses programs that seek to simplify pathways to graduation and certification while emphasizing sustainability and flexibility.
The ribbon cutting took place March 15th at the lower level entrance to the CBIT building with kind remarks from President Dr. Ronald Rhames and architecture firm president Heather Mitchell, AIA, LEED AP. Attendees heard from professors who are already using the building and student success stories highlighting the importance of the investment in technical colleges in South Carolina.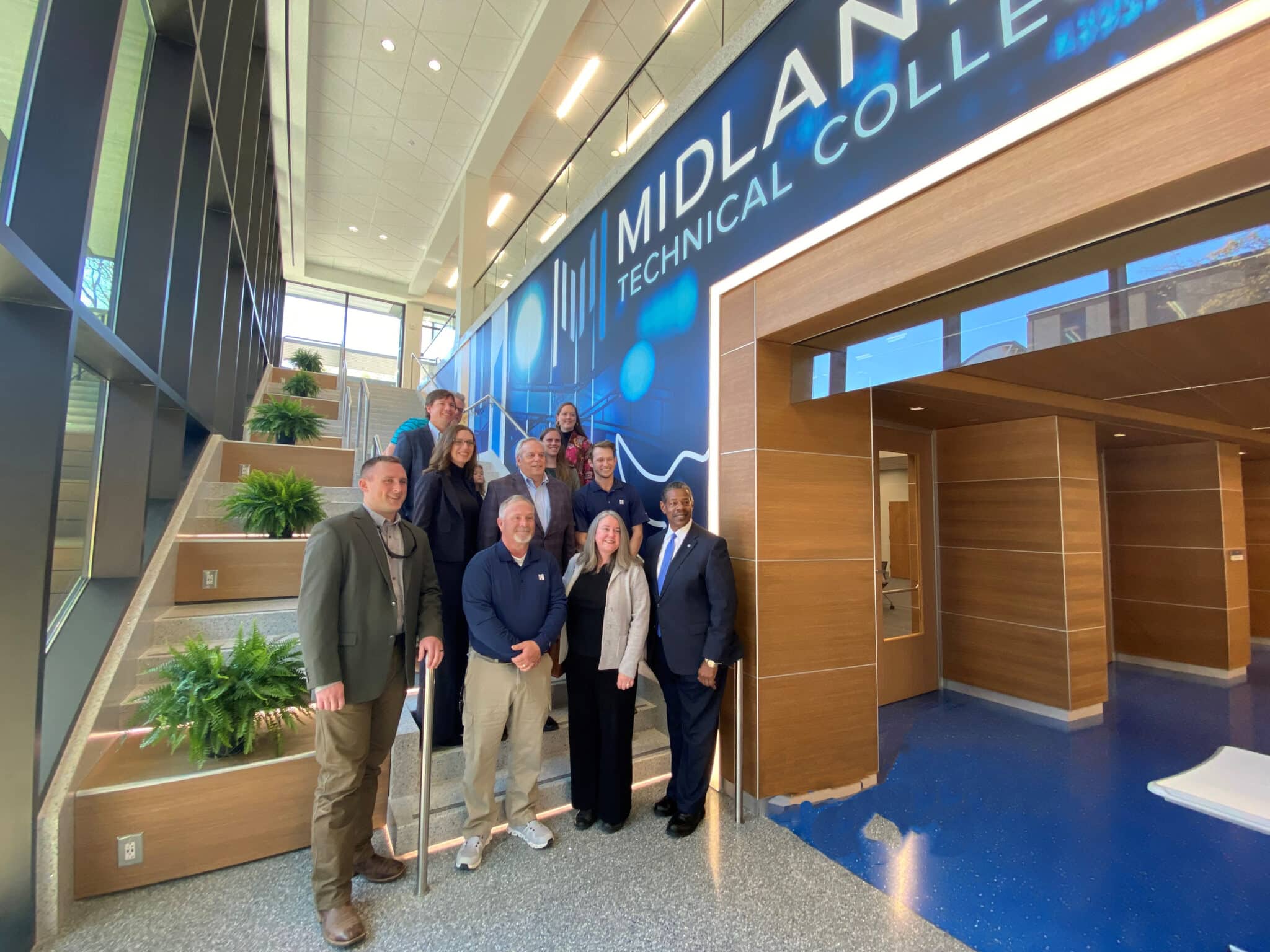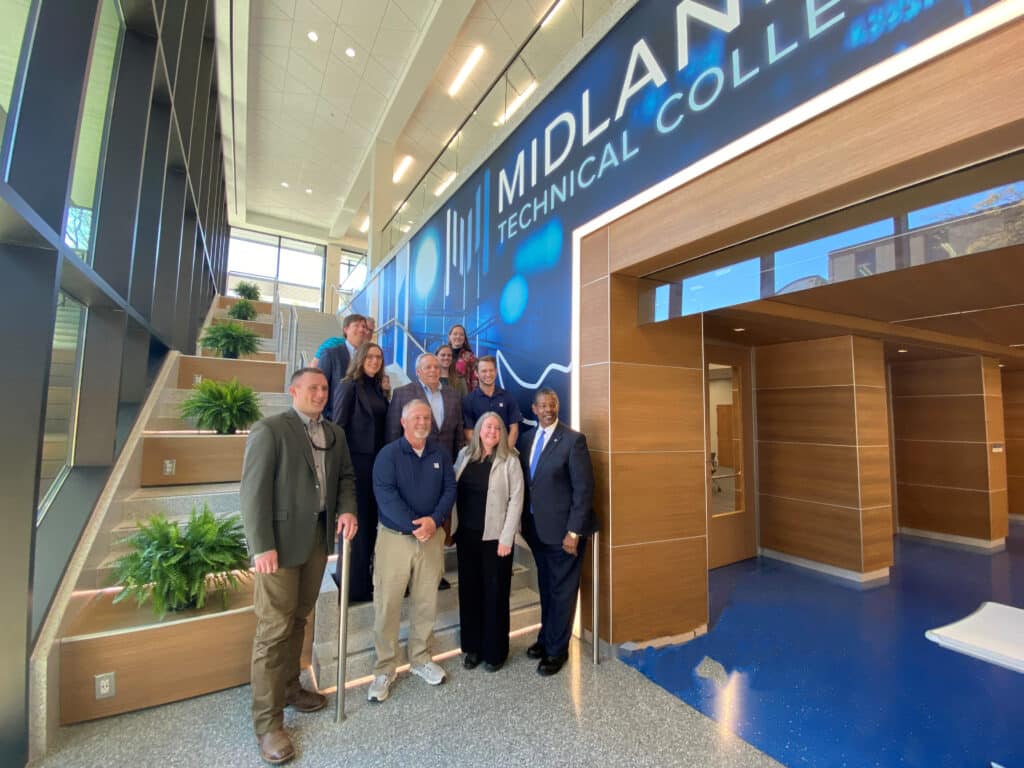 The new 56,000 SF academic building features a pedestrian plaza that links the entrance from the upper level of campus through a dynamic staircase, mirroring the indoor/outdoor connection. The first floor includes a large multipurpose conference room and a smaller multipurpose classroom/blackbox theater, which engage visitors to the building. The second level includes a coffee station and lounge overlooking an upper pedestrian plaza, an executive conference space, and business related classrooms and programs, connected through a two-story atrium and dynamic staircase to the level below. The third floor cantilevers over the lower two floors to create a covered overhang that also serves to shield the inviting glass wall along the southern sun exposure, and focuses on Information Systems technology. The fourth floor houses Science and Math programs, providing cutting-edge laboratory spaces for Biology and Chemistry.
Achieving 2 Green Globes, the building focuses on enhanced efficiency of systems and incorporates natural light in a way that increases the wellness factor for students and employees in the building. The new Center connects both students and the business community together through use of flexible gathering spaces, including a multipurpose room equipped with a removable stage and a variety of seating arrangements to quickly convert from classes to gatherings and performances.
The new academic building will enrich the student experience and connections to the community at large, while serving as a new iconic beacon for the lower entrance to the campus.