cultivating

relationships


designing inspiring

places


enriching

communities

Campus Village Christ the King High School Communities community Conference Conference Presentation Cultivating Relationships Faith-Based Girl Scout headquarters Hilton Head Historic Columbia Foundation Inspired Design Interiors landmark MACK McCormick Midlands Technical College MTC NAWIC New Construction North Carolina Power 30 Professional public engagement Samuel J Cadden Chapel SCCCMA SHPO studenthousing uofsccampusvillage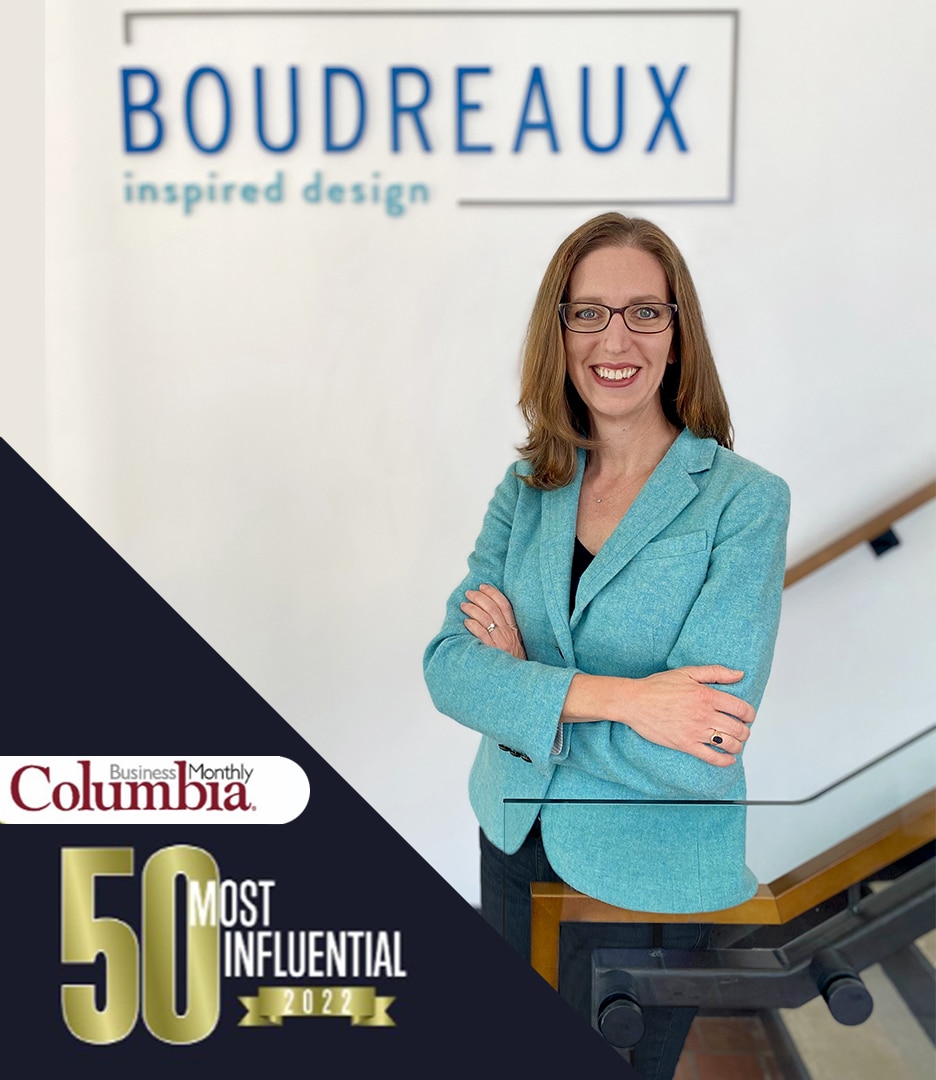 Tuesday January 3, 2023
President Heather Mitchell recognized as 50 Most Influential by Columbia Business Monthly
Heather Mitchell was honored to be recognized as one of the 50 Most Influential People by Columbia Business Monthly.
With over 27 years of experience, Heather Mitchell's design leadership energizes building projects throughout South Carolina and beyond. As President and as a Principal-In-Charge at BOUDREAUX, an architecture, interiors, planning, and preservation firm with studios in Columbia, SC and Charlotte, NC, she leads diverse teams and coordinates complex design efforts. Enriching communities, she is especially passionate about rehabilitating historic structures, facilitating visioning and master planning, and designing for higher education.
Her team is leading the largest state's largest ever capital improvement project, USC's Campus Village, in collaboration with Charleston student housing developer, Greystar. Next up – BOUDREUAX is part of the development team just selected to design USC's Health Sciences Campus and School of Medicine Relocation to the BullStreet District.
Further championing downtown vitality, she is on the Executive Committee and Chair Elect of Columbia's Main Street District, was a founding and 11-year board member of One Columbia for Arts and Culture, and an executive Committee member for the Columbia Chamber. A Liberty Fellow, she has launched the Riley Mayors' Design Fellowship to educate Mayors on community planning. An alumna of the University of Virginia and Syracuse, she started at BOUDREAUX just out graduate school becoming a principal in 2004 and president in 2006. A lifelong runner turned triathlete, Heather is the mother of two college aged children, one working on her Doctor of Physical Therapy at MUSC and the other set to graduate from USC in May 2023.
https://www.mirabelsmagazinecentral.com/digitaledition/index.html?id=c489ead6-9b23-4f1d-890c-0cd3fec61499&em=aG1pdGNoZWxsQGJvdWRyZWF1eGdyb3VwLmNvbQ–&utm_campaign=January+2023+-+Columbia+Business+Monthly&_fl_id=5a997b78-cab0-4c70-963f-deadd20c5491
This is the second time Heather Mitchell has been recognized by Columbia Business Monthly with this honor. The selection of the 50 men and women is a result of staff research and community nominations.