THE PROJECT:
Seibels selected the design/build team of M. B. Kahn Construction Co., Inc. and the architects of BOUDREAUX to design and construct the renovations to their Columbia, SC headquarters. The original building was completed in 1949, with an addition of greater size built in 1977; the total area of both wings equals 128,000 square feet. The building had been kept in excellent shape for many years, but the building systems had aged beyond their life expectancy with parts becoming difficult to replace. Seibels also recognized that the time had come to update the interiors and select exterior building components.
Once selected, the M. B. Kahn and BOUDREAUX team met with Seibels to develop the overall scope of renovations. Coordination meetings were held with department stakeholders to facilitate the alignment of 16 departments across six floors with 343 employees. Plans were developed
that documented the current employee and department locations within the building. In order to bring together teams previously spread throughout the space, increase collaboration, and improve communication and efficiency, the M. B. Kahn and BOUDREAUX team planned for strategic relocations using color-coded plan diagrams. Reorganization of departments also opened up underutilized areas and temporary swing spaces for relocation during renovation and future company expansion. With an understanding that a floor-by-floor renovation was a necessity, a goal was established to move departments only once. Our team then followed the normal progression of documents, schematic design development, and final construction documents.
"We have found that in planning the relocation of employees during renovation work, it is essential to include all parties effected in early planning. Everyone must understand and agree on the plan early to avoid surprises on move day," says John Reading, Project Manager.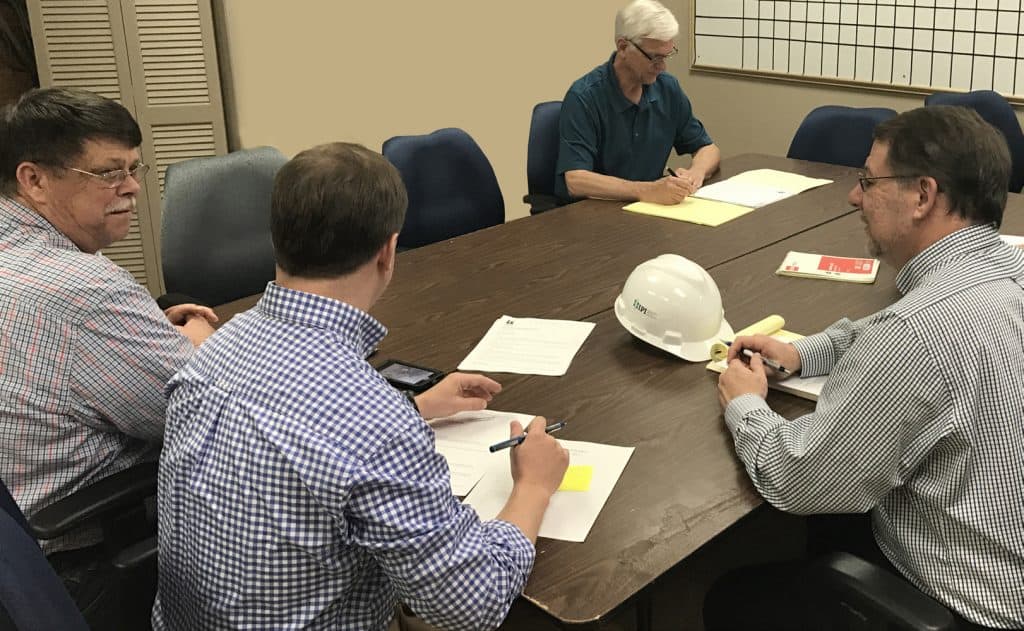 Renovating within occupied spaces while limiting disruption and keeping the building occupants safe from construction activities is a daunting endeavor that requires extensive planning and flexibility. The Owner and Contractor collaborate to develop an overall project phasing plan that accounts for disruptive construction activities and the relocation of building occupants. Building officials are made aware of the renovation plans and provide consent to the overall plan. The contractor remains flexible when circumstances are encountered that fall outside the construction team's control. The success of a renovation project relies on clear ongoing communication between all team members.
The logistics surrounding this complex type of construction require attention to project phasing, scheduling, and just in-time deliveries. The Owner's and Contractor's activities are integrated into an overall project schedule and, if necessary, includes color-coded floor plan mapping. Methods such as these are helpful to the Owner's facilities managers and endusers in understanding the expected timing and space requirements for the choreography of equipment, materials, labor, and Owner employees.
RENOVATIONS:
As with any construction project, the Seibels Insurance Technology & Services renovation project came with its own unique set of challenges. Seibels is headquartered within a historical building located in downtown Columbia, SC. The challenge of working in an urban environment was amplified by a lack of outside, available swing space to place employees during the renovation. In addition, the company's insurance services business required special consideration during two hurricane seasons (6 months in 2016 and 2017).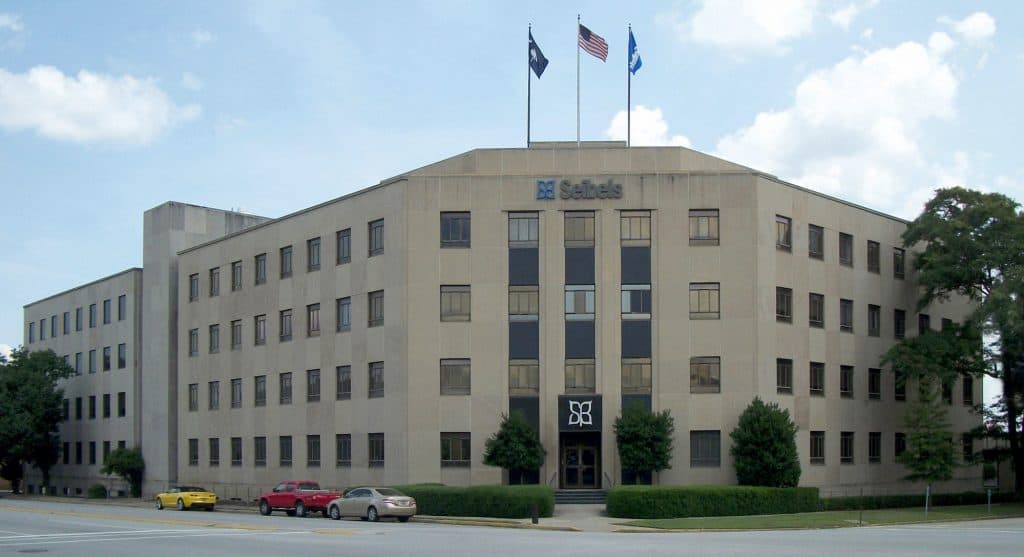 SAFETY:
Safety comes first. M. B. Kahn employs numerous measures to ensure that construction activities do not jeopardize occupant safety. Working with building officials and authorities, we implement temporary life safety measures, including developing safe entrances and exits and maintaining continuity of the building's life safety systems (such as fire alarms). If required, utility outages and critical overhead lifts may be limited to afterhours work to minimize the impact of renovations on business operations.
As with most renovation construction projects, satisfying curiosity is also a major factor – especially at occupied office facilities where construction activities can be a source of intrigue for workers who have a sense of ownership of their surroundings. Utilizing signage within the facility (in elevator lobbies, along corridors, and on scaffolding) that include the words "construction site" and "authorized personnel only," communicates the inherent dangers of construction sites to curious onlookers. Reasonable care and vigilance on behalf of all workers at the site is necessary to ensure unauthorized individuals stay clear of construction zones for their own safety. Temporary barriers also provide a clear division between construction and non-construction zones.
Hurricane Matthew hit the Carolina coast right before the Disaster Response Center was scheduled to be relocated and demolition started. M. B. Kahn worked around this department, allowing close to 100 temporary employees to be added to the department within a matter of days. In terms of business continuity and its claims support services, Seibels was able to respond to all incoming insurance claims. All of this was done without impact to cost or schedule. Changes involved swapping phasing of the work to include other floors which were scheduled for renovations at a later date, and returning to the Disaster Response Center when it was ready. Each of these areas was occupied with other personnel not related to Disaster Response whose daily operations were also left intact.
LOGISTICS & MATERIAL MANAGEMENT:
The logistics of a phased renovation are a challenge as efforts are made to supply the project with the necessary materials and manpower without impacting ongoing business operations. Careful planning and creative tactics, such as installing a bucket hoist on the exterior of a building, allow worker and material access to the work zone while avoiding the same entrances used by the building occupants. Material deliveries can also be scheduled for after hours to lessen the impact on business operations.
Move Management: A well-planned system for move management is integral to decrease the impact that construction has on existing tenants. If employees are relocated within the building, efficient management of the multi-phased relocation process allows the Owner's employees to be productive while allowing construction activity to remain on schedule. The complexities of construction are amplified when work takes place within an occupied space.
Success is not measured simply by physical evidence that a building was designed and built. Rather, plans, schedules, materials, manpower, and safety are balanced with an Owner's business continuity needs and workplace environment. A spirit of cooperation between the Owner, the Architect, and the Contractor ensures that any real or perceived "storm" is manageable.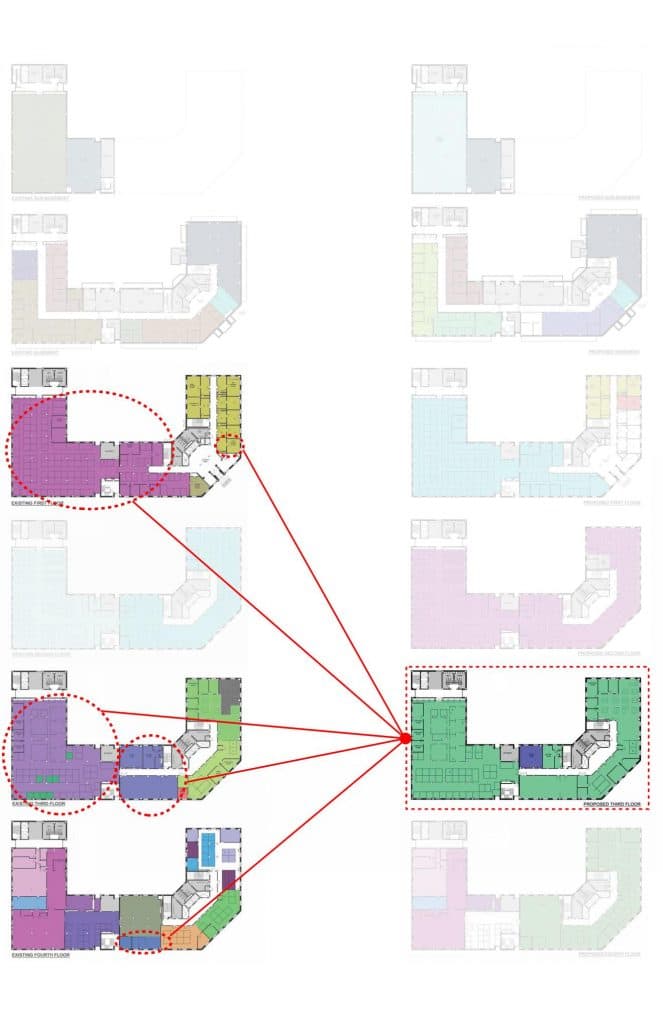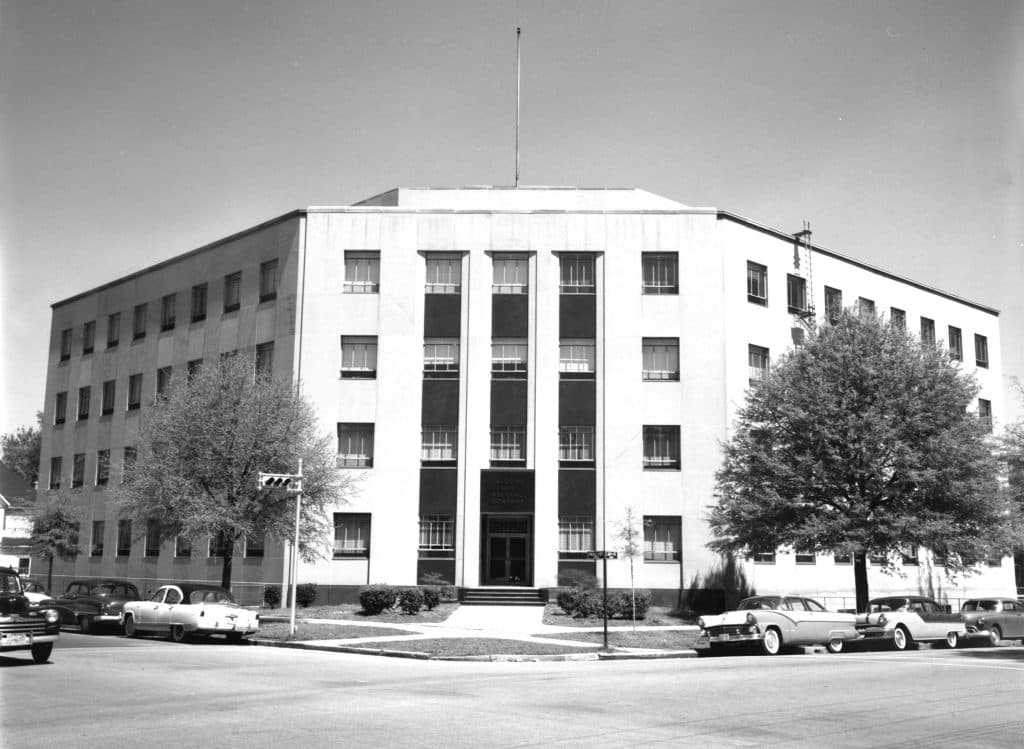 ABOUT MB KAHN & BOUDREAUX: Headquartered in Columbia, M. B. Kahn Construction Co., Inc. operates throughout the Southeast from six strategically located offices and serves all market sectors offering general contracting, construction management at risk, and design-build services. Celebrating 90 years in the construction industry, the company has gained a reputation as specialists, providing quality services on time and on budget. M. B. Kahn Construction has grown to be recognized as one of the nation's leading construction firms and is routinely ranked in Engineering News Record's Top 400 General Contractors nationwide.
For 40 years, BOUDREAUX has built upon its strong reputation as a dynamic, socially responsible firm committed to excellence in architecture, interiors, and planning. With extensive experience throughout the state of South Carolina and beyond, the firm has been recognized for its leadership in providing the highest level of service and design to numerous educational, government, community, corporate, and religious institutions. BOUDREAUX is committed to excellence through service, ethical and professional practice, and quality design.