cultivating

relationships


designing inspiring

places


enriching

communities

Campus Village Christ the King High School Communities community Conference Conference Presentation Cultivating Relationships Faith-Based Girl Scout headquarters Hilton Head Historic Columbia Foundation Inspired Design Interiors landmark MACK McCormick Midlands Technical College MTC NAWIC New Construction North Carolina Power 30 Professional public engagement Samuel J Cadden Chapel SCCCMA SHPO studenthousing uofsccampusvillage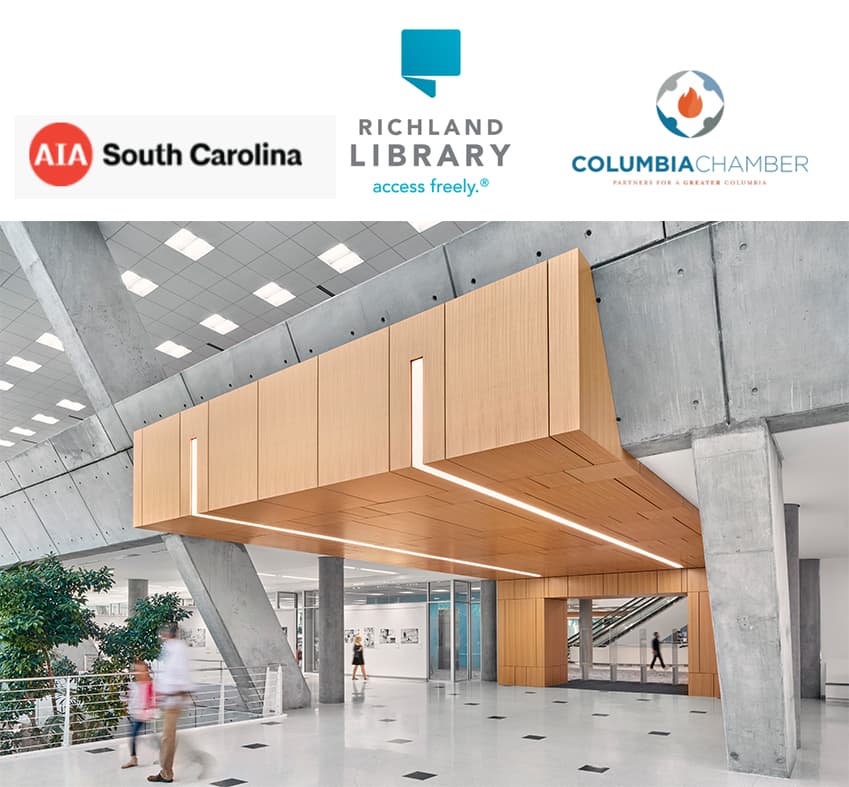 Thursday March 11, 2021
Richland Library Wins AIA South Carolina's Design Honor Award for Interior Architecture & the Columbia Chamber's Golden Nail
COLUMBIA, S.C. (March 11, 2021) – Richland Library was recognized by the American Institute of Architects South Carolina (AIASC) earning the Honor Award for Interior Architecture for their inspiring work renovating their main location on Assembly Street in the heart of downtown Columbia. Columbia Chamber also recognized the Library with the coveted Golden Nail for bringing revitalization to downtown Columbia.
AIASC Design Awards are the state's highest recognition of excellence in design. The reinvestment in the Main Library, maintains the vitality of an essential service in a walkable location easily accessed by public transportation and exemplifies Richland Library's patronage of quality design, community collaboration and social justice advocacy. It further illustrates a commitment at all levels to a mission that facilitates access and equity throughout the community: This is the power of the participatory design process to reduce inequities. This is the power of community collaboration to enrich the process. This is the power of design excellence.
A 1990s urban icon has been reimagined as a model 21st century library experience. The interior renovation of the Richland Main Library encompassed 175,650 square feet over four floors. It improved customer service and increased public gathering spaces to promote learning, creating and sharing. Part of a bond referendum with limited funding, the $12.9 million investment updated infrastructure while focusing dollars on the public experience. With creative placemaking, user experience, infusion of color, and integration of public art at the center of a participatory design process, what was once a storehouse for books is now a celebration of community.
This project was a highly collaborative effort including McMillan Pazdan Smith, Margaret Sullivan Studio, and Contract Construction.